THE DSI COMMUNITY HEALTH
The focus of the DSI Community Health is to better understand the digital society with the aim to benefit from digitalization in the health domain. The community's approach and interest include patient centered as well as global health perspectives. The research ranges from digital data over patient empowerment to clinical application. Researchers in the DSI Community Health are building on the following pillars:
Digital science & research embraces well-being, medicine and care
AI technology can contribute to improvement of quality of health research by collecting, classifying and interpreting diverse health-related data
Researchers are tackling interdisciplinary questions with the aim to create societal impact
Ethical and legal perspectives are integrative part of the research to establish state of the art frameworks for respect for persons, beneficence, justice, data protection and data security.
MISSON
Showcasing interdisciplinarity and independent expertise to foster knowledge sharing and joint research
Critical reflecting on challenges and opportunities posed by digitalisation in the health domain related to health care claims
Improving informed decisions and health by integrating, analysing and contextualising complex digital health-related data
Promoting digital literacy, creating trust and value, empowering citizens, including patients, healthcare providers and policy-makers, for optimizing health outcomes and health care needs
Providing guidance on optimal research structures to achieve this mission within a sustainable research network
THE DIGITAL SOCIETY INITIATIVE (DSI)
What questions about digitalization are on your mind? And how has your life changed with the digital transformation? Digitalization is presenting society and science with new challenges. It is taking hold of a large part of our lives at an ever faster pace.
The Digital Society Initiative (DSI) aims to help shape the digital transformation of society and science. With its activities in the areas of «research», «education» and «public outreach», the DSI is the competence centre of the University of Zurich (UZH) on the digital transformation.
The DSI is a scientific institution supported by all faculties of the UZH, which promotes independent scientific reflection and innovation on questions of digital transformation. It prepares UZH students to help shape the digital transformation, engages in regular discourse with the public and supports policy-making on digital transformation issues.
COMMUNITY ACTIVITIES
The DSI Community Health and its researchers are involved in inter- und transdisciplinary projects covering diversity of topics linked to digitalisation of health. The following visuals display the main framework, elements and project flow shaping the research of the DSI Community Health.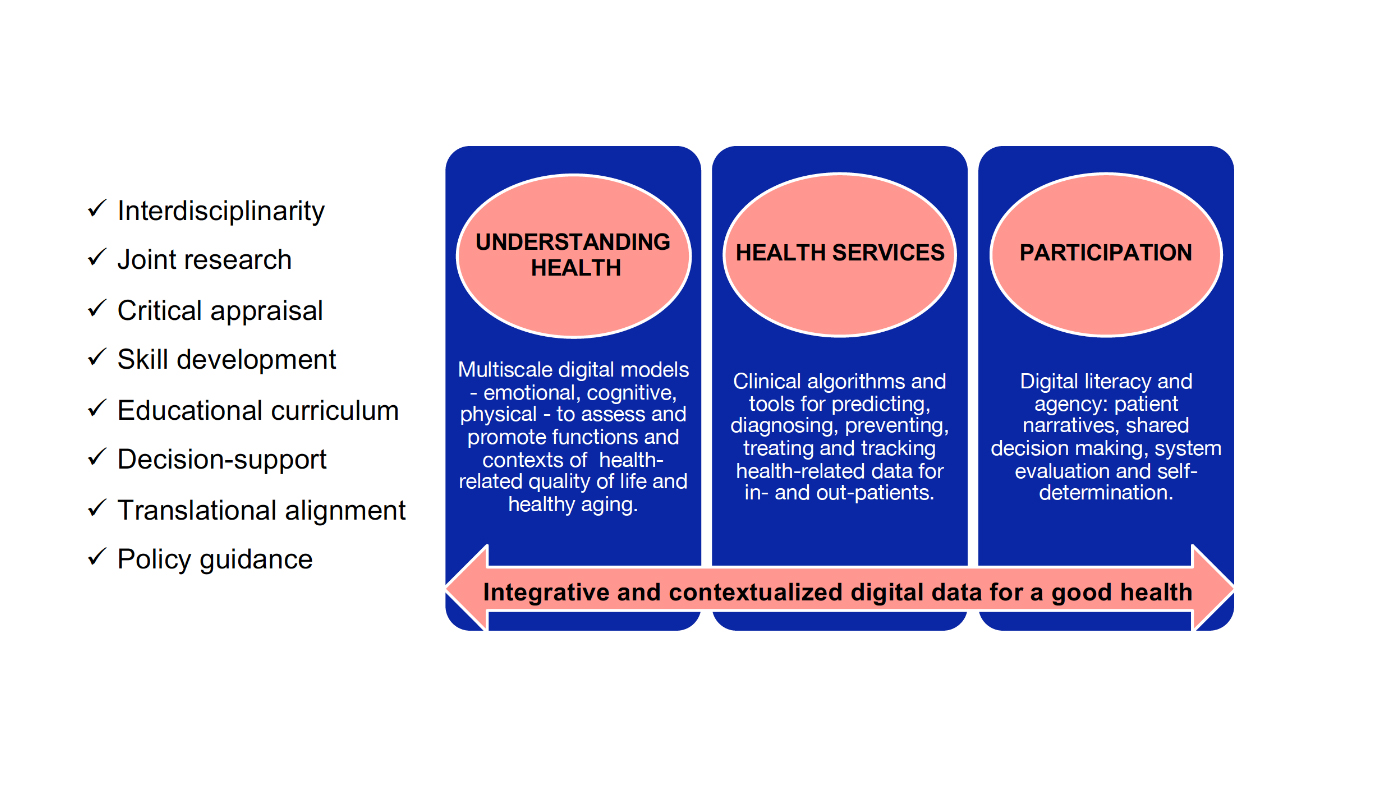 Framework of Research fields in the DSI Community Health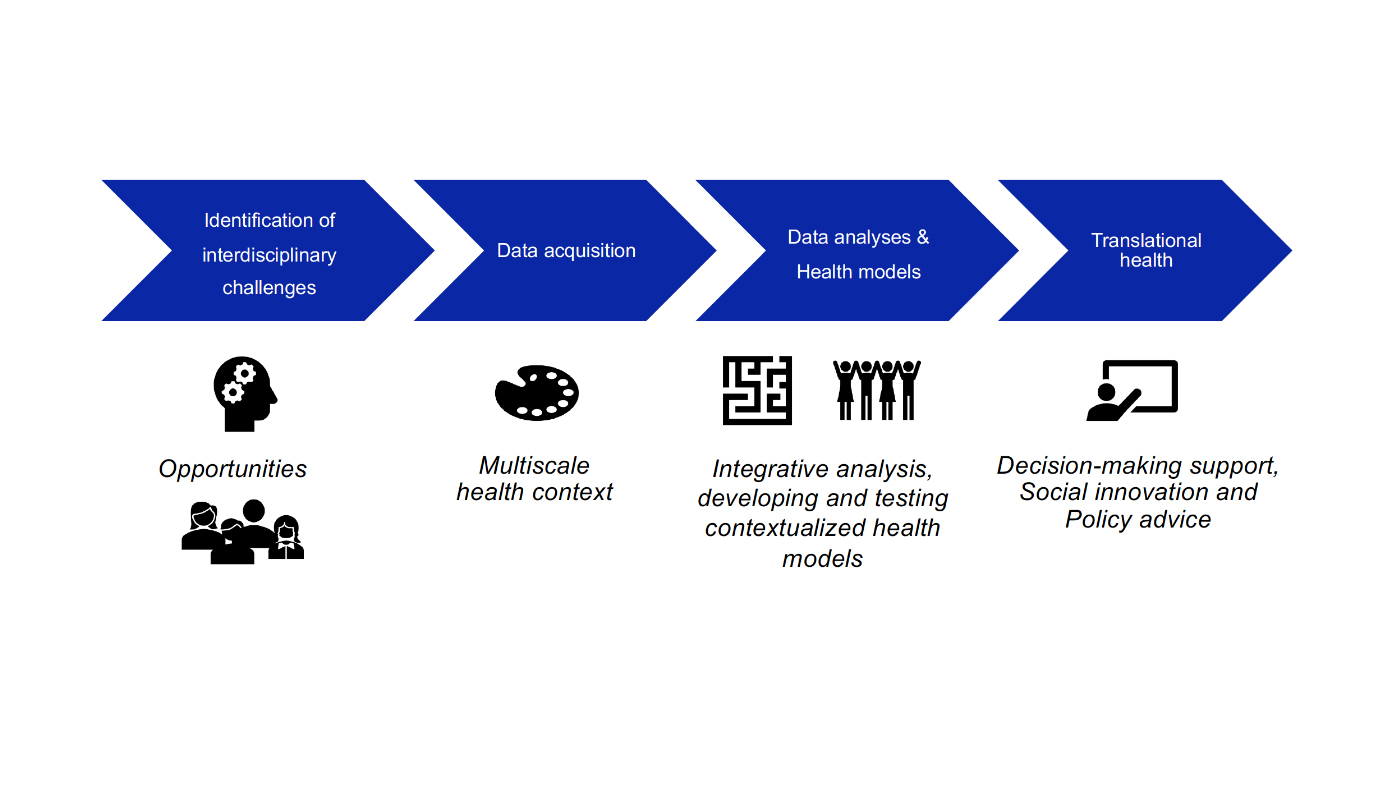 Elements of the DSI Community Health's projects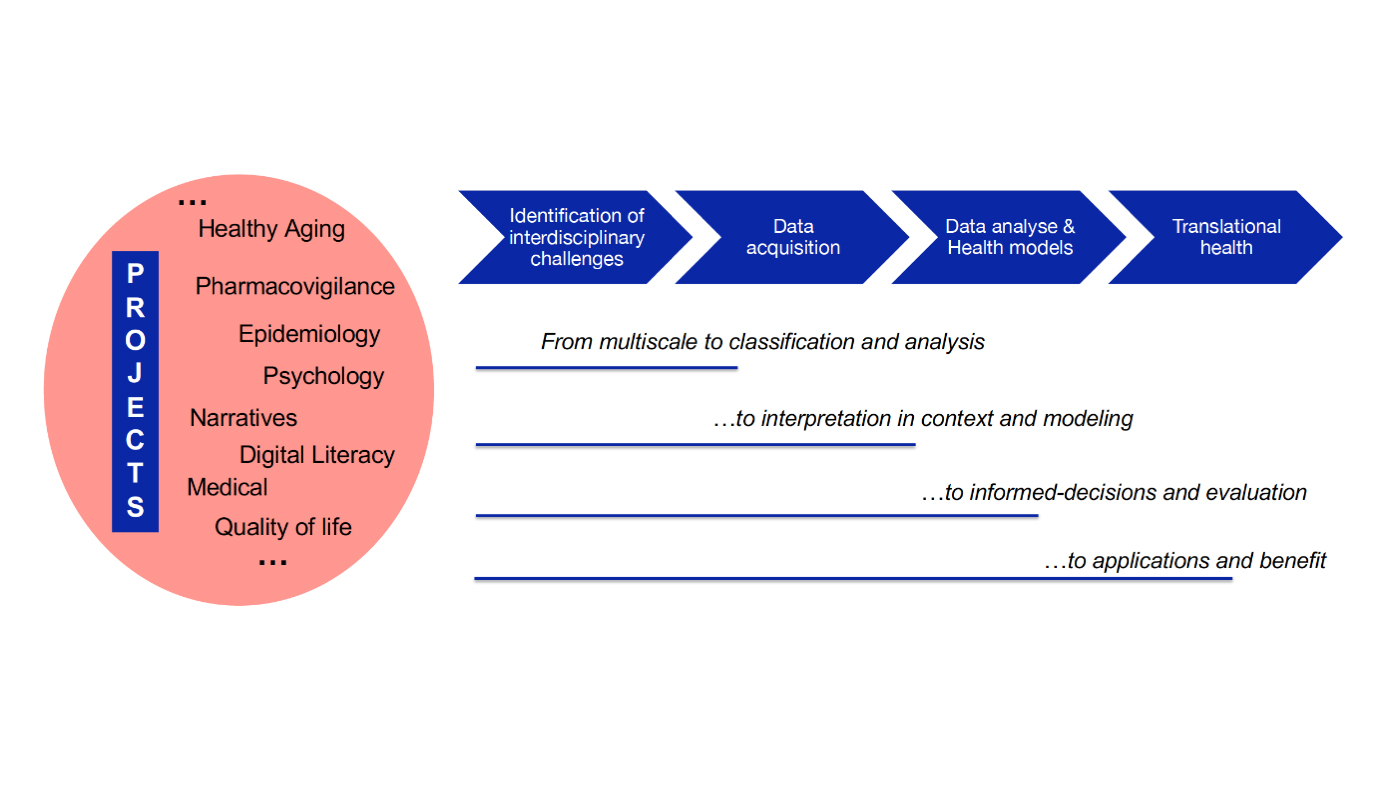 Project Flow in the DSI Community Health
Membership in the DSI Community Health is open to researchers affiliated with a Swiss university. For other individuals, membership is conditional on an ongoing cooperation with the DSI Community. To become a member of a DSI Community, membership in the DSI Network is required. Please follow this link.